Diaries of an Urban Panther
Violet Jordan thought the fairy tales her mother wove were just a way to get Violet to sleep, not a way to prepare her for the apocalypse she is the key to preventing. When she becomes a midnight snack for werepanther Spencer Haverty, his infectious bite invokes the first element of her destiny. When Violet's budding instincts allow her to save a boy's life, she realizes this new gig may come with perks: a slimmer figure, the attention of a handsome Guardian, and insights into her future embedded in her mother's stories. But as push comes to claws, can Violet make the fatal strike against the men threatening her new family, her new home and her first boyfriend in ages?
"Diaries of an Urban Panther shows promise of being the next powerhouse series that readers will devour with avid devotion." — Long and Short Reviews
Read the prologue HERE
 **************** 
Claws and Effect: A Diaries of an Urban Panther Novel
Violet Jordan Rule #2 of being a superhero: Find reliable sidekicks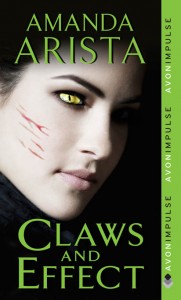 Dear Diary,
Once I took down Haverty, the Primo of the city, I thought life was going to get better. After four assassination attempts, I'm thinking not so much. Haverty's pack needs a new leader and I've just about run out of reasons why I'm not right for the job. Besides, having loyal followers would definitely help me fight off whoever's out for my blood. Especially since my boyfriend is always busy playing White Hat to every Wanderer except me.
So now I just need to figure out how to mentor new shifters, run a pack, keep my "real" job, and have some sort of personal life. I guess it's all in a day's work for this writer-by-day / panther-by-night.
Availble at : Avon Impulse Amazon Barnes and Noble
Read Chapter one HERE
********
Nine Lives of an Urban Panther
Violet Jordan Rule #3 of being a superhero: Family first, fur second.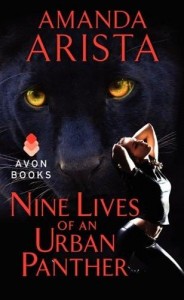 Dear Diary,
With new supernatural creatures popping up at every turn (Ghouls?
Really?), the city divided, and my long-lost cousin blazing into town,
I've got a lot on my mind. Oh, not to mention I'm supposed to be planning a
wedding. Chaz has got to be the best, most patient (and probably clinically
insane) fiance around.
But defeating my sworn enemy in a battle for the souls of Dallas is going to require more than just my full attention. It means learning to depend on everyone—especially Chaz—if any of us are going to make it out of this alive.
Because if Plan A doesn't work, I'm going to need them for Plan B. And Plan C .
. .
Read Chapter one HERE.
**********
Vampires Gone Wild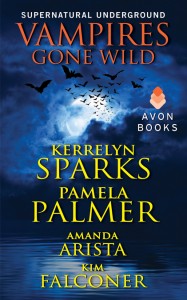 Vampires Gone Wild brings together four paranormal romance novellas by Kerrelyn Sparks, Pamela Palmer, Amanda Arista, and Kim Falconer, authors and bloggers at Supernatural Underground.
Kerrelyn Sparks's demure Pamela and sexy vampire sidekick battle the Malcontents in "V is for Vampwoman." Kim Falconer's aqueous San Francisco vampires in "Blood and Water" want nothing from "landers" — unless it's dinner, but that's until Stellan meets Angelina. Pamela Palmer carries readers to Vamp City in "A Forever Love" where trapped Lukas pines for his lost love. When she appears, Lukas will fight to keep her alive. It's been a hundred years since Valiance has dated; all is great until they're attacked, but quiet Esme will shock Valiance in Amanda Arista's "First Dates Are from Hell."
Available: Amazon, Barnes and Noble, All Romance